Solving your filtration problems has never been easier when you work with the certified experts at Fluid Conditioning Products, Inc!
We are proud to be a Service-Disabled Veteran-Owned Small Business that provides custom filtration solutions for our customers.
When You Need Proven Filter Performance, Turn to FCP!
If you're looking for a filter manufacturer with the certifications necessary to produce the best metal mesh and stainless-steel filters on the market, your search is over! Fluid Conditioning Products, Inc. (FCP) is a well-established manufacturer of industrial filters. Our filtration products are used in some of the most challenging environments and provide mission-critical reliability for the aerospace, marine, and defense industries.
So why are more industries turning to all-metal filters? The answer is simple. Metal mesh filters perform better than fiberglass filters. Period. The research shows that all-metal filters reduce maintenance costs, create cost-savings opportunities, and dramatically reduce contamination in an aircraft's hydraulic system. So, if you're ready to experience the difference with precision-engineered filters, contact FCP today!
Our Company's History
Founded in 1943, we began as a fusion of several smaller companies involved in the filtration business. When Carborundum Corporation bought out three of the companies in 1974, they created Fluid Conditioning Products. In 1984, FCP moved from New Jersey to its current location in Lititz, Pennsylvania, not far from Lancaster, Harrisburg, York, and Philadelphia.
As filtration requirements changed in the industries we serve, so did our company. We continuously improved our filtration products, eventually focusing entirely on all-metal filters and strainers. We know they can be cleaned and reused and withstand extreme temperature ranges. They are also the ideal choice for jet aircraft, helicopters, nuclear submarines, and more.
A Veteran-Owned Small Business
FCP is now entirely self-owned, primarily by the company's management. Our core business is the low/medium volume manufacture of precision-engineered filtration products for technically demanding aerospace and marine applications. In 2016, we became a Service-Disabled Veteran-Owned Small Business (SDVOSB), and we're proud to help the heroes who serve our country.
Most of our business has traditionally been with government contractors, directly or indirectly. However, significant sales of air intake filters have recently been made for helicopters used in law enforcement and search and rescue operations. We have also seen our products—including filters, strainers, and baskets—used in the filtration systems of commercial airliners, smaller aircraft, and crop dusters.
---
Invested in Quality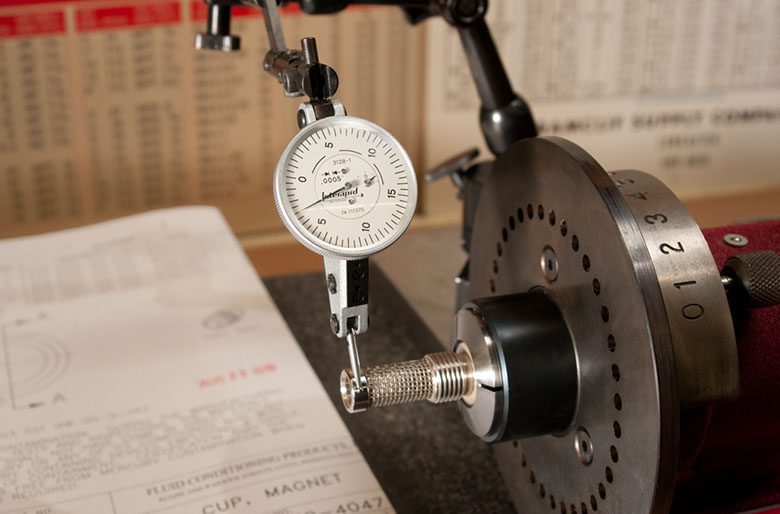 Over the last decade, we have adopted Lean Manufacturing strategies, invested heavily in equipment and employees, and achieved numerous quality certifications. Years of experience as a high-precision filter manufacturer, modern machinery, extensive testing facilities, and skilled personnel go together to produce the highest standards of quality in our FCP products. Our innovative, well-equipped plant spans 50,000 square feet with an additional expansion area.
When you choose filtration products from FCP, you can rest assured that you are getting products made by real people that meet the strict quality standards required of an AS9100, Rev. D-certified company.
Plus, as a National Aerospace and Defense Contractors Accreditation Program (NADCAP)-approved supplier, our quality management system meets industry standards. By controlling our manufacturing process, we can ensure our filters provide the dependability and durability our customers need.
Expanding Our Mission
Our mission is to provide the finest hand-crafted precision filters in the industry through a policy of employee enrichment and retention. FCP endeavors to provide a truly unique customer experience by encouraging direct, personal customer communication and a dedicated desire to meet the customer's expectations.
Simply put, we strive to be the best filter supplier we can be. In the next five years, we'll be adding more parts that we supply and expanding our products lines through existing customers. We will continuously improve our products and process to provide the best filtration products for you.
What Should You Expect from Our Dedicated Team When You Work with FCP?
We Answer the Phone!
When you call Fluid Conditioning Products to discuss a project during regular business hours, a real person takes your call and is ready to help you. We don't put you through phone prompts by an automated attendant. You'll get the personalized service you want and deserve.
Handcrafted Filters
Real people hand-craft all our filters. We don't use automated machinery to assemble them. This detail-oriented approach to filter manufacturing means reliable, consistent quality for filtration applications, including ones used in helicopters, fighter jets, submarines, and airplanes.
We're AS9100 Certified
Fluid Conditioning Products is certified to the AS9100 Rev. D standard. This certification ensures that our customers get a quality, traceable product that will survive the most challenging conditions. FCP remains in full compliance with the specific requirements needed to achieve certification.
We're Serious About Quality
We are so serious about quality that we inspect EVERY piece we make, every time, ensuring that you get the right part for your application that works as expected. And if anything doesn't meet our standards, it automatically gets rejected.
We're Certified By NADCAP
We are certified by NADCAP for torch and induction brazing. NADCAP certification means we follow established processes that ensure the highest reliability of our products. We are proud to pass our most recent audit and meet NADCAP standards.
Experience Counts
We have over 60 years of experience providing filters for the most demanding environments on planet Earth and beyond. We have developed heavy-duty filters that work in seawater environments, in the hot zones of jet engines, and even the vacuum of outer space!
Quality Craftsmanship
We have many talented craftsmen who have been with the company for more than 20 years. This approach to craftsmanship means you can expect to receive consistent, quality parts that meet or exceed your application's requirements.
Defense Contractor Compliance
As a defense contractor, FCP adheres to strict policies and regulations. We are proud that the U.S. military has come to rely on us to provide critical precision metal filtration and fluid management products to protect sensitive systems.
Commercial Aviation Specialization
Many of the most innovative and demanding commercial aerospace manufacturers trust FCP to consistently provide for their most complex filtration needs. Our all-metal filter elements are corrosion resistant and reliably perform.
Why Work with FCP?
To solve your filtration problems, you need to think beyond fiberglass or paper filters. They simply don't perform the best when you need them the most. Instead, they fall apart in the machine and shed fibers that damage the equipment. Around 2013, laser particle counters discovered this problem with fiberglass filters, prompting a massive movement to all-metal filters by the commercial aviation industry.
Beyond being the best filter manufacturer we can be, we also support the military with reliable products and through our owner, David A. Niggel, who served in Korea. We use American-made products whenever possible and adhere to strict high-quality standards and Lean Manufacturing. And we have the certifications to prove it! You'll be hard-pressed to find another filter supplier with all these accolades.
Our Proven-Process for Creating Custom Filters
When you choose to work with FCP for your custom filtration needs, you will be treated fairly and be involved in every step of the process. Our proven three-step process produces high-quality, dependable filters that you can use for years without decreasing filter performance. This three-step process includes:
Planning and Development: After receiving product plans from the customer, we draw up a proposal and determine product specifications and design. Engineering creates the production drawings.
Prototyping: We produce prototypes based on the plans and specifications from the customer and present it to them to see if it meets their needs. We repeat this process until the filter reaches the highest quality standards.
Production: Our team of experienced, detail-oriented craftsmen creates your filtration product by hand. With solid teamwork, our staff efficiently produces excellent goods. After assuring the product meets our quality standards and passes our inspection, it is packed carefully and shipped to the customer.
For more information about our process of designing, creating, and producing custom filtration products, contact us!
Looking for a Custom-Designed Filter Manufacturer? Contact FCP Today!
Fluid Conditioning Products can help solve your filtration problems. As a certified filter manufacturer focusing on quality, you can count on us to provide the filter solutions you need. We can create a custom pleated filter to fit your specifications, whether you need air, hydraulic, fuel, or oil filters. Contact us today to learn more or request a quote!
Scroll