If you're frustrated because your fiberglass or woven wire filters are underperforming and causing an increase in mechanical breakdowns, then it's time to put an end to your irritation. Make the switch to all-metal filters from Fluid Conditioning Products! We use sintered metal fiber in our all-metal filters, making them more robust, highly efficient, and longer-lasting than low-cost media like glass fiber.
The result is better filtration of your water, hydraulic, or oil systems, so impurities don't cause a premature breakdown or excessive wear of your machinery. For over 70 years, FCP has been a leader in the filtration business and serves customers in some of the most highly demanding and challenging fields, like the U.S. Military, commercial aerospace, and marine companies.
Learn how sintered metal fiber felt aids in the filtration process and get a quote today to get started on solving your filtration frustrations.
What Is Sintered Metal Fiber Felt?
Sintered metal fiber felt is a non-woven filter medium made by selectively laying and compressing fine metal fibers together and then bonding through the sintering process. High-temperature sintering ensures a uniform filter element that performs far better than legacy materials like glass fiber.
In addition to outperforming fiberglass, sintered metal fibers are very strong, corrosion-resistant, and able to withstand high temperatures and stress in some of the most challenging environments. The material is versatile and can be welded and folded into different shapes. It's usually layered with standard wire mesh to create the desired performance in a filter element.
What Is Sintered Metal Fiber Used For?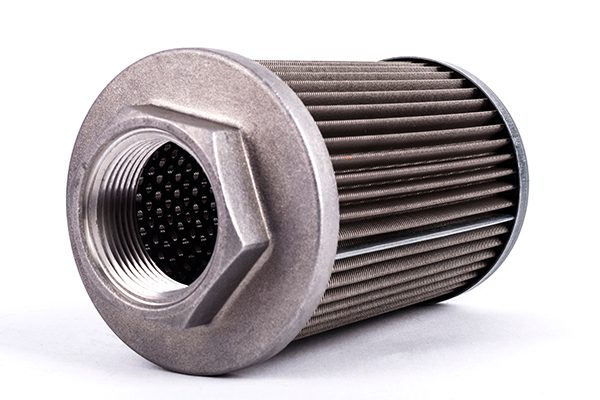 While there are many uses for sintered metal fiber, filtration is where this material shines. Its high porosity increases permeability up to 20 times compared to other media types. You can add the fiber felt as a single layer on a sintered filter element or sintered mesh. Alternatively, you can bond multiple layers through sintering to create a complete filter media.
It's ideal for filtering gas and liquids, so it's the perfect filter medium for the clients we serve here at FCP. Our metal fiber media has absolute filter ratings as low as 3 microns and will not shed or break like traditional fiberglass media. That's why our all-metal filters are used in military jets and helicopters, commercial aerospace, and the marine industry.
What Are the Benefits of Using Sintered Metal Fiber Felt?
Choosing sintered metal fiber felt as your filter medium is a wise choice. There are many advantages to using this type of media, including:
High Porosity—This medium has up to 85% porosity, which helps the material flow better than other filter media.
Lower Pressure Drop—Because of the high fiber porosity, it has a lower pressure drop, saving you energy costs.
High Dirt-Holding Capacity—With its ability to hold more dirt and contaminants than other filters, you won't have to replace sintered metal fiber filters as frequently as you would others.
Long-Lasting—All-metal filter elements can last two to three times longer than legacy media, like cellulose, fiberglass and paper.
Corrosion Resistance—The unique sintering process the metal fiber endures makes the metal resistant to oxidation, so there's less breakdown of parts due to corrosivity.
Easy to Clean—The open structure of the sintered metal fiber felt allows you to easily clean the filter, resulting in less downtime for your machinery.
High Strength—Sintering the pieces of metal together creates strong fiber bonding, guaranteeing a far stronger medium than woven wire or fiberglass.
Consistent, High-Efficiency—Because all-metal filters do not shed, they do not add detrimental particles to the fluid stream.
How Does a Sintered Metal Fiber Work in Filtration?
The fluid or gas passes through the filter, and the sintered metal fiber blocks and retains contaminants and prevents them from entering the system downstream. The particles cake on the surface of the media and continue collecting the pollutants. The more particles that build up on the surface of the filter, the more pressure drop increases until the filter reaches terminal pressure drop.
What Type of Metal Fiber Does FCP Use?
At FCP, we prefer to use the finest metal fiber available for our filter elements—Bekipor. It is the most reliable stainless steel fiber filtration media available with multiple compositions to guarantee the best fit for your application. The fibers can range from three microns to over 40 microns, depending on your needs.
We chose this product because it exhibits all the benefits aforementioned of using sintered fiber felt. The metal-to-metal bonds create a strong filtration media that you just can't get from other materials.
Where Can I Get All-Metal Filters?
Sintered metal fiber is just one component of our all-metal filters. Our filters reduce contamination in hydraulics systems up to 95% and decrease equipment failure rates across the board. All-metal mesh filters have realized savings in military aircraft as high as $4 million for every 100 hours of flight time.
Choose the filter manufacturer who has the quality certifications, expertise, and skill to make the specialty filtration products you need—Fluid Conditioning Products. We'll work with you to ensure that our filters meet your specifications and perform better than fiberglass or paper filters. Get started today by requesting a quote!