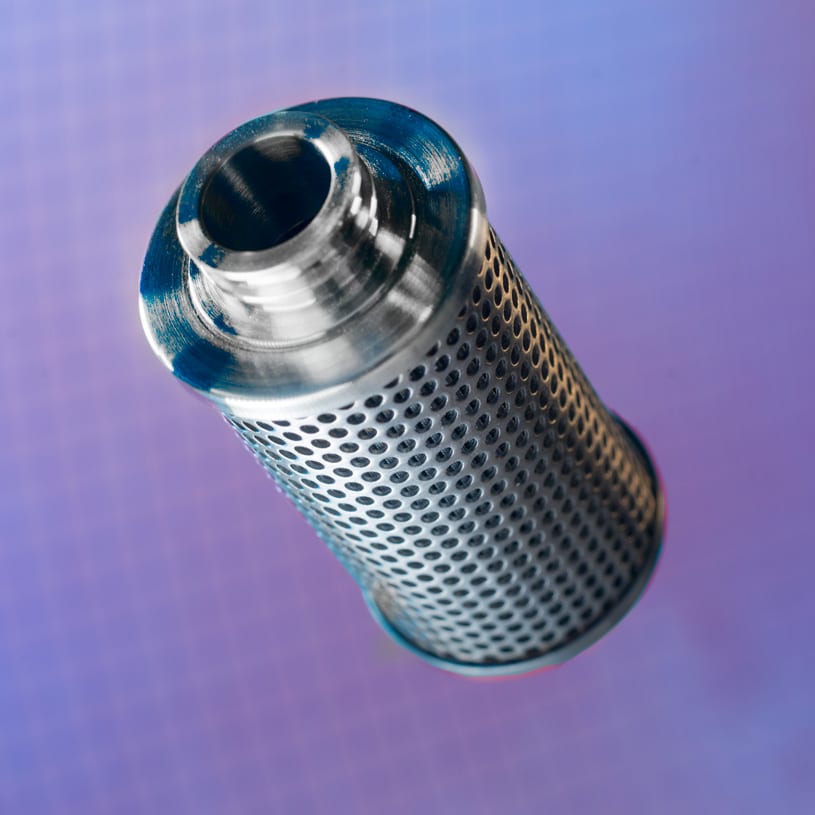 Revolutionize Industry Standards with High-Performance Metal Filters
As a machinery manufacturer, engineer, or procurement manager in the military, aerospace, marine, and industrial sectors, you know the challenges of improving operational efficiency, reducing maintenance costs, and ensuring superior performance.
You've likely seen how substandard filters can cause contamination in hydraulic systems, frequent equipment failures, and escalating maintenance costs. These issues disrupt your operations, eat into your profitability, and compromise safety—something no one in these critical industries can afford.
At Fluid Conditioning Products, we're proud to offer you a solution in our precision-engineered metal filters. Made from corrosion-resistant materials such as stainless steel, nickel-copper, brass, and bronze, these all-metal filters have been rigorously tested in demanding settings like U.S. Army helicopters and commercial Boeing 737 jets. The results? A significant reduction in contamination and maintenance requirements, leading to improved operational efficiency and cost savings for you.
Our metal filters should be the standard for your industry. Request a quote today and experience the FCP difference for yourself. Together, let's revolutionize your operations and set new standards for performance and efficiency.
Advantages of Metal Filters Over Other Legacy Materials
Metal mesh filters have a distinct advantage over legacy materials due to their superior durability and efficiency. When using metal filters in your machinery, you invest in components that withstand the harshest conditions. Unlike cellulose, paper, spun polyester, and fiberglass filters, metal filters don't degrade over time or under intense pressure. They are built to last, providing reliable filtration even in the most demanding settings, such as a military jet engine.
Dramatically Reduce Maintenance
One of the most compelling reasons to choose metal filters is their ability to reduce maintenance times dramatically. In both U.S. Army testing in Blackhawk helicopters and commercial airline testing in Boeing 737 jets, all-metal filters have consistently proven to reduce contamination in hydraulic systems and cut maintenance on various components. With less contamination getting in your engines, you can remarkably reduce maintenance times by as much as 10x! Your machinery can keep running smoothly with fewer interruptions, boosting productivity and operational efficiency.
Realize Enormous Cost Savings
Choosing metal air filters, hydraulic, oil, or water filters for your operations can save significant costs. By reducing maintenance times and extending the service life of your machinery, metal filters help you get more out of your investment. The savings also extend to reduced downtime and fewer replacement parts, contributing to a lower total cost of ownership. Tests have shown that all-metal filters can save approximately $4 million for every 100 hours of flight time in a fleet of 2,000 helicopters. These figures underscore the financial benefits of opting for metal filters in your jets, airplanes, submarines, ships, and more.
Significantly Reduce Contamination
The primary function of any filter is to reduce contamination, and this area is where metal filters truly excel. All-metal filters have been shown to decrease contamination in hydraulic systems by about 95%, a performance that far surpasses traditional filters. By effectively removing contaminants, metal filters protect your machinery's critical components, prolonging their lifespan and ensuring optimal performance. This longevity not only maintains the integrity of your machinery but also safeguards the safety and effectiveness of your operations, providing a better product for your customers.
Are You Still Using Fiberglass Filters?
We hate to break it to you. If you still rely on legacy filtration materials like cellulose or fiberglass/glass fiber—especially in crucial aviation applications, such as hydraulic filtration—you're not getting the performance your equipment needs to operate at its best. While these filters may have served you well in the past, they simply can't compete with metal filters' durability, efficiency, and cost-effectiveness. Fiberglass filters are prone to degradation over time and under intense pressure, resulting in frequent replacements and high maintenance costs.
On the other hand, FCP's all-metal filters are designed to withstand extreme conditions without compromising their performance. They can also offer much-improved filtration efficiency, and they excel in several other essential performance measurements for filtration—whether they are used in gas, liquid, or air filtering. The best news? At Fluid Conditioning Products, we can help you make the critical switch to metal filters.
Using a Metal Filter in Aerospace, Marine, and Defense Applications
Woven metal mesh filters and various metal filter media have all been "real-life tested" in commercial and military aviation applications to see how each compares to fiberglass. And the bottom line is that metal filters outperform their traditional counterparts. As we advance, it's becoming clear that all-metal filters should be considered the standard in the aerospace, defense, and marine industries.
Need a Customized Metal Filter for Your Operation?
Whether you need metal filters for aerospace, marine applications, or defense, our product range includes metal air filters, metal mesh filters, and washable metal SAS media air cleaner filters. Each filter offers superior cleanliness, the ability to dissipate static charges and a compact design that fits seamlessly into your machinery.
Our commitment to customer satisfaction ensures that we deliver not just a product but a comprehensive solution that enhances the efficiency and profitability of your operations. So, if you need a customized metal filter for your operations, don't hesitate to reach out to us.
Why Choose FCP to Craft Your Metal Mesh Filter?
Choosing FCP for your metal mesh filter means choosing a partner committed to quality, innovation, and customer satisfaction. We are proud of our reputation as a leading provider of metal filters for various industries, and we work tirelessly to uphold this reputation.
When you choose FCP, you're not just getting a product – you're getting a partner dedicated to helping you achieve your operational goals. We believe in forging long-term relationships with our customers, providing reliable solutions and ongoing support to ensure their success.
A Commitment to Quality
At FCP, quality is more than a buzzword – it's a guiding principle. We are committed to delivering products that meet the highest quality and performance standards. Our metal filters are meticulously crafted from corrosion-resistant materials, ensuring their durability and efficiency. We also invest heavily in our manufacturing processes and personnel to consistently deliver top-tier products. Our commitment to quality extends to every aspect of our business, from product development to customer service. When you choose FCP, you're choosing a partner who puts quality first.
A Proven Manufacturing Process
Our manufacturing process is what sets us apart. We adopt Lean Manufacturing strategies, invest in state-of-the-art equipment, and consistently employ skilled personnel to produce high-quality metal filters. Our process is rigorously monitored and regularly updated to incorporate the latest technological advancements.
Moreover, our manufacturing process is backed by numerous certifications, including AS9100, Rev. D certification, and National Aerospace and Defense Contractors Accreditation Program (NADCAP) approval. These certifications attest to our adherence to industry standards and best practices, giving you peace of mind that you're working with a trusted and reliable supplier.
We're Heroes Helping Heroes
As a Service-Disabled Veteran-Owned Small Business, we understand the vital role that our products play in supporting the heroes who serve in the military, aerospace, marine, and industrial sectors. We take great pride in knowing that our metal filters contribute to their operations' safety, efficiency, and success.
At FCP, we see ourselves as heroes helping heroes. We're committed to delivering products that meet the highest quality and performance standards, helping our customers overcome operational challenges and achieve their goals. Your mission is our mission, and we're here to support you every step of the way.
Get the Proven Filtration Your System Needs!
As professionals in the military, aerospace, marine, and industrial sectors, you understand the crucial role that high-quality components play in your operations. Substandard filters can lead to contamination, frequent equipment failures, and high maintenance costs—problems that disrupt your customers' operations and impact your bottom line.
At Fluid Conditioning Products (FCP), we offer a solution in the form of our superior metal filters. Engineered from corrosion-resistant materials like stainless steel, nickel-copper, brass, and bronze, our metal filters provide reliable filtration even under extreme conditions. They have been proven to reduce contamination and cut maintenance times, improving operational efficiency and significant cost savings.
Whether you're looking for metal filters for aerospace, metal filters for marine applications, or metal filters for defense, FCP has got you covered. Our products include metal air filters, metal mesh filters, and washable metal SAS media air cleaner filters. Each filter promises superior cleanliness, the ability to dissipate static charges, and a compact design that fits seamlessly into your machinery.
Embrace the future of filtration with FCP's metal filters. Request a quote today and join the ranks of manufacturers who are setting new standards in performance and efficiency. Together, we can revolutionize your operations and contribute to the success of your mission.
Find Additional Information on Our Blog
If you want to learn more about FCP Filters, our blog is full of helpful information!
Scroll